Meet the New Leadership & Staff  | Meet The Therapists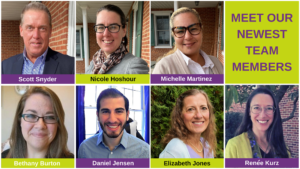 In 2021, Samaritan averaged nearly 1,000 counseling sessions per month. Outside of our clinical work, Samaritan Consulting Group has seen an uptick in career coaching and human resource consulting requests, and Clergy & Congregation Care's Ministry Assessment Program and clergy groups continue to grow.
To meet these increasing needs, we have welcomed three new therapists, a director of consulting, a screening specialist for TeenHope, a client service coordinator and a finance manager over the past few months.
Meet Our New Leadership & Staff
Scott Snyder, Director of Consulting
In this role, Scott oversees the strategy and services of Samaritan Business Consulting and Clergy & Congregation Care. Scott has an extensive background in health care practice and administration, as well as in developing mentorship and organizational development programs for small businesses to Fortune 500 companies. Outside of work, Scott enjoys spending time with his family, skiing, hunting, outdoor activities, and cooking for friends and family.
Nicole Hoshour, Finance Manager
Nicole joins the Samaritan team as current Finance Manager Dave Bruce begins his transition to retirement. She has a background in finance and business administration with experience in both corporate and nonprofit accounting. Her recent experience includes work in office management, accounts receivable, accounts payable, payroll, and human resources. When not at work, Nicole enjoys reading, making music, learning about the world and, most importantly, spending time with her husband and twin daughters.
Michelle Martinez, Client Service Coordinator
As one of our client service coordinators, Michelle helps to schedule clients and connect clients to counselors, as well as assisting with other administrative tasks. Her passion for the mental health field is what led her to Samaritan Counseling Center. Currently, Michelle is pursuing her bachelor's degree in psychology with plans to continue on to her master's degree. Her goal is to one day be a licensed professional counselor. In her free time, she enjoys reading, painting and spending time with her family.
Bethany Burton, TeenHope Screening Specialist
Bethany is a graduate of Liberty University and a licensed professional counselor. In her role as a screening specialist, Bethany will assist the TeenHope program on-site during its mental health screenings for depression, anxiety and suicide risk. She also provides counseling to adolescents and adults at Samaritan, and she is especially passionate about working with at-risk adolescents who have experienced trauma. In her free time, Bethany enjoys spending time with family and friends, attending live music events, and finding any excuse to go to the beach.
Meet Our New Therapists
Daniel Jensen, MA, LPC
Daniel is a licensed professional counselor who graduated from Capital Seminary & Graduate School with a Master of Arts in professional counseling. He has spent more than five years working with clients in Lancaster and Berks counties, and he is currently a doctoral candidate at Widener University.
You can learn more about Daniel here.
Elizabeth Jones, LPC, NCC, CCATP, CGCS
Elizabeth also joins Samaritan as a licensed professional counselor. Her previous career involved teaching children and adults in the United States, as well as in Ukraine with Mennonite Central Committee. She enjoys counseling teens and adults of all ages, and has special interest in helping clients work through anxiety, depression, grief, and life transitions. She and her husband like spending time with their three adult children and son-in-law, all of whom were homeschooled. In her free time, you may find Elizabeth hiking through state parks, baking, learning the harp, or playing with her two sweet but mischievous cats.
You can learn more about Elizabeth here. 
Renée Kurz, LPC, R-DMT
Renée is a licensed professional counselor and registered dance/movement therapist. She loves working with individuals of all ages to discover the creative and healing wisdom found when connecting their mind-body-spirit. Prior to becoming a therapist, Renee was (and still is!) a professional modern dancer and seamstress. She also enjoys nature walks, bike riding, and DIY projects.