November 10, 2022
The Art of Resilience & Grit
Join us at Calvary Church on Thursday, November 10, 2022, at 11:30 a.m., or virtually as we celebrate our 27th anniversary of Women Helping Women.
This year's Silent Samaritan luncheon features keynote speaker Timbrel Chyatee, founder and designer of CHYATEE, an ethically made couture fashion line based in Lancaster that focuses on empowering and inspiring individuals through fashion, providing fair living wages and working conditions for our employees, and creating space for each artisan to use their exceptional talents to provide unique, high-end pieces.
Click here to register for the event!
The Silent Samaritans are a group of women focused on helping other women who seek counseling but are at a time and place in their lives where they cannot afford it. Since their inception in 1996, this group has raised more than $1.4 million dollars for women in our Lancaster County community.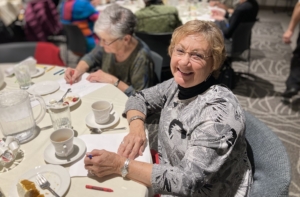 Register